Found this great free Scripter app on the web .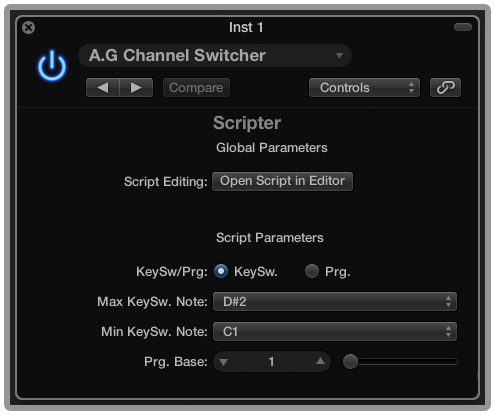 DOWNLOAD HERE
From IVAN KOVACHEV
Producer, Composer, Developer & Designer
AUDIOGROCERY
© 2013. All rights reserved.
LogicX Midi Channel Switcher

The A.G Midi Channel Switcher is a new ultimate midi processing script/preset designed for the LogicX scripter plugin. You can use this plugin preset to switch easily the incoming midi channel into any other channel to be able to change the instrument patch, articulation etc via Key Switches or Program Change messages. The A.G Channel Switcher is designed to be used with any Multi-timbral Software Instruments such as Spectrasonics Omnisphere, NI Kontakt, Steinberg Halion Sonic etc, or with multitimbral hardware midi devices via the Logic External Instrument software plugin.
Key Features

•
Smooth channel/patch change.
You can hold down a few notes and switch to another midi channel via Key Switch (KS) or Program Change (PC) without any interruption. After the switching, the new notes will be performed by the new patch while the old "held" notes will play the old patch until you release them. The method guarantees no hanging note events!
•
Non-note events Transform .
The midi channel of the all other midi events such as Control Change, Pitch Bend etc is transformed into the target new channel after the switching, so you can control the new patch accordingly.
•
Midi Channel Key Switching.
You can assign a custom Key Switching range using the Min/Max Note UI parameters.
•
Midi Channel Program Change Switching.